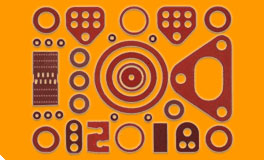 Technical Vulcanized Fibre – Sealing and Isolating
In.house designation: N-Vulkanfiber (NVF)
tvf01acc. DIN 7737
Typ VF3111 for general and mechanical applications
Typ VF3121 for elektro-technical applications
Suited for seals and isolation
Can be bent, punched and stamped
UL Certificate No.: E218790
Colors: blue-gray (standard) / red, black, light gray (special colors)
NVF is a technical vulcanized fibre.
It is manufactured from high-quality cotton raw materials, and is used mainly in the area of the machinery and electrical industries.
tvf02Pre-shaped parts are punched, stamped or formed from this vulcanized fibre to perform mechanical and dielectric functions. The material complies with the relevant DIN standard 7737 vulcanized fibre 3111 + 3121. In some cases, it even exceeds the requirements of this standard by a clear margin. Vulcanized fibre is not a thermoplastic polymer and is therefore heat-resistant; in chemical terms it is absolutely neutral.
This product is manufactured in rolls with original widths of approximately 1400 mm and is provided in tape widths of up to 7 mm.
We will be happy to provide formats upon request.
The standard thicknesses that we provide are 0.20, 0.30, 0.40, 0.50, 0.60, 0.80 and 1.00 mm.
We will be happy to provide special thicknesses upon request.
NVF can be supplied in the following colors: blue-gray, red, black and light gray.
We will be happy to provide special colors upon request.
Sachsenröder produces and supplies these qualities in roll or narrow tape format. Third parties then process this material further into punched, stamped or formed parts to fulfill the requirements that the processing companies place on it in terms of mechanical and dielectric functions. These qualities therefore have to be capable of being bent and punched, in addition to the required physical and electrical isolation properties. To be able to achieve all of the required values for both the mechanical area and the demands of electrical engineering with the single product NVF, high-quality raw materials are used in a highly controlled manufacturing process. The resulting product is best suited for all aspects of the above areas.