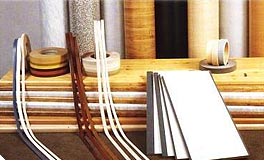 Flexible carrier for top-range laminates
Vulkament is used as a carrier material for the manufacture of endless laminates, preferably on a melamine resin base.
These endless laminates are cut to form edge materials or are used as surface materials for postforming or softforming products.
Vulkament is used where the end product is subject to particularly heavy demands, e.g. in the area of kitchen furniture.

We have decades of experience with this type of vulcanized fiber quality, which is used in the furniture industry as a laminated material with decorative surfaces. We designed the special product "Vulkament" for the manufacture of this type of product using endless presses.
There are many different options for building up these laminates, which can be structured in various ways depending on their intended use and cost considerations.
Vulkament is therefore available in several different thicknesses and color types as part of Sachsenröder's manufacturing program.
Manufacturing of the edge and surface material has to be adapted to suit the further processing methods to be used in each case.
Postforming and softforming processing has expanded significantly since the introduction of glues such as PVAc to suit market requirements.
The radii required for postforming and softforming processes require a corresponding level of flexibility on the part of the laminate.
This flexibility is achieved partly by modifying the resins, but mainly by reducing the resin components on the laminate.
In this case it is advisable to increase the Vulkament component by using Type VM 0.20, which has been proved to reduce defects, e.g. surface cracking.
These products are manufactured as standard in 0.10, 0.20 and 0.30 mm thicknesses.
Other thicknesses are available upon request.

Colors: white, light brown, brown, black.
For extreme deep-drawing problems, we recommend the softer materials
ZL-Vulcanized Fibre or Smooth Fiber.